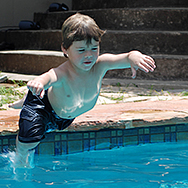 Our program is officially Good Swim Inc. and the board of directors is ready to lead! Development will begin once the 501c3 status as tax exempt has been approved by the IRS, but you can donate now! We have goals including:
Teach more children.
Start a Special Olympics program.
Training young swimming prodigies until they switch to high school or college-level swimming.
Make as many babies safe around a pool as possible.
We have three principle areas we are looking to fund: Scholarships, Building, and Operations.
Follow your heart and and make a donation to Good Swim!!
NOTE: You cannot pay your swim class tuition here, this is only for donations.
(Once you hit the donate button you will be prompted to use either PayPal or a debit/credit card)
Good Swim Donations